Transmedia narratives create a unified world around a topic. It also leads people to investigate further.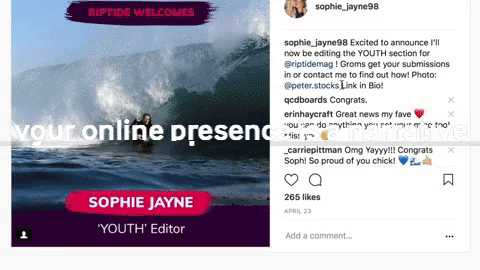 Instagram doesn't allow for links within the caption of a post. However, the link can be added in the profile bio for the audience to investigate. This begins the transmedia story.
"A transmedia world not necessarily must be fictional; it can be our own Earth" –Gianluca Fiorelli
My remediation displays the 'tunnels' that my followers can take, to find information about me – all beginning with one simple post. Viewing my profile, buying the brands I advertise, reading my articles, knowing where I live, my age, relationship status, where I surf etc.
I recently posted this image to instagram:
The aesthetics within the photo depict that Riptide is about bodyboarding and I am the Youth Editor. There is no explainer to this. So, how does the transmedia narrative evolve? I simply add a link into my bio for my viewers to investigate.
"Transmedia storytelling is the ideal aesthetic form for an era of collective intelligence." – Henry Jenkins 
–SophieJayne