The paradigm shift of internet craft, allows passive consumers to become active creators.
In relation to post industrial culture, production converges with conception. This  dissolves the boundaries between forming ideas and the action of making. The internet allows craftsmanship.
"at a speed that keeps pace with thinking and development of ideas".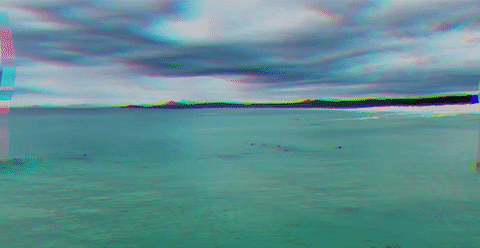 With Photomosh, I created this remediation with a rough idea in mind.  I experimented with different aesthetics to amplify how consumers can become creators. The original video portrayed a peaceful atmosphere. I wanted to reiterate this, whilst glitching the movement and colour. Ultimately, mistakes generated the final remix.
I stumbled upon a malfunctioning, yet peaceful glitch.
I remixed the video again to convey how the internet is a copy machine. All content can be taken and altered, thus transitioning from a consumer, to creator. By depicting different colours and aesthetics, I created a chaotic atmosphere. This changed the whole interpretation of the video.
Internet craft can scale up the medium. Therefore, the paradigm shifts. -SophieJayne